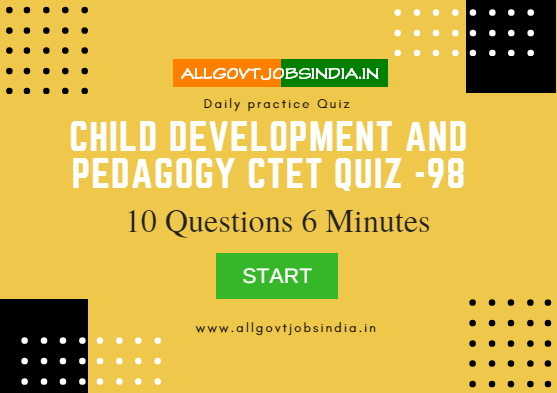 Child Development and Pedagogy CTET Quiz -98
Here is a Child Development Quiz 98 for upcoming CTET exams. This Quiz is very helpful for all candidates who are preparing for CTET exam, as well as for B.Ed Entrance Exam.This quiz also helpful for Teaching Entrance Test for all State TET  Exams. We are sharing important Questions which are based on CTET Exam with latest exam pattern. If you daily practice Child Development Quiz we ensure that you can score good marks in your exam.
Name:  Child Development Quiz 98
Subject: Child Development and pedagogy
Language: English
Questions: 10 Objective Type Questions
Helpful for:  B.Ed Entrance, UGC NET, Teaching aptitude, DU B.ED Entrance, CBSE CTET, State TET Exam, REET, UPTET, Teaching Aptitude Quiz for all Teaching Entrance Test.
Child Development CTET- Quiz 98
All the Best !!
Congratulations - you have completed Child Development CTET- Quiz 98. You scored %%SCORE%% out of %%TOTAL%%. Your performance has been rated as %%RATING%%

Your answers are highlighted below.
Please Share your score % in a comment below. Therefore we feedback to you: 
Attempt More Quiz: