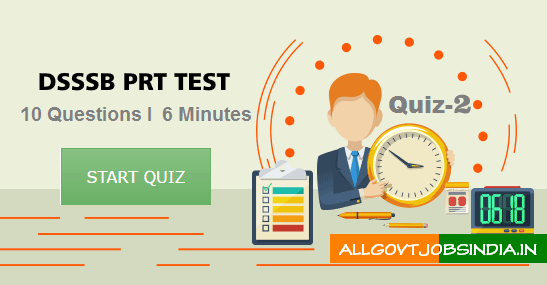 DSSSB IMPORTANT PRT Mock Test Question -QUIZ 2
Dear Friends,
Today here we provided  DSSSB PRT Mock Test-02 – Exams. Hope you enjoying the Quiz. Day by day we provided more PRTQuiz for more practice. Continue with us for latest Exam Practice Quiz. This Quiz we focus on Important Mock Test DSSSB Exam Questions those expect come to DSSSB  Exam. So students keep on Daily practice here to improve your Exam Practice. Previous DSSSB PRT Mock Test- 01 
Introduction: DSSSB IMPORTANT MOCK TEST.
Subject: PRT EXAM (SUBJECT)
Total Questions: 10
Total Time: 6 Minutes
Useful for : #DSSSB Exam #KVS Exam
Leaderboard: DSSSB PRT MOCK TEST - 02
maximum of 10 points
Pos.
Name
Entered on
Points
Result
Table is loading
No data available
Please Share your score % in a comment below.
Therefore we feedback to you: